Witness the difference with the Plus
The best-selling model of the best-selling brand, the CESSNA CITATION XLS+ aircraft combines transcontinental range and remarkable efficiency in a beautiful midsize jet. The XLS+ jet's first-class cabin offers a comfortable room for up to 12 passengers. A spacious interior allows those inside to stand and move about the cabin with ease. The high-quality leather seats are extra wide with full reclining capabilities for optimal comfort. COLLINS AEROSPACE PROLINE 21 avionics deliver NextGen-ready performance as the world's most recognized flight deck. Rest assured your whole team can fly in comfort and arrive closer to your destination, allowing you to spend less time traveling and more time at the job site or with your customer.
The Citation XLS+ jet is built around Pratt & Whitney high-bypass engines, offering generous range and performance.
This aircraft features a Fresh Air System to keep cabin air clean. This system operates by bringing fresh air from outside into the aircraft through the engines.
Plentiful closet space throughout the cabin. Providing more than enough space for the whole team on your travels.
Simpler controls and brighter displays, all powered by Collins Aerospace Pro Line 21 avionics, make the Citation XLS+ aircraft smarter than ever. This line of avionics provides weather navigation systems, airport diagrams, detailed flight status data, checklists, diagnostic systems and are directly in the crew's line of sight. Angled control panels and four tilted eight by ten-inch displays show flight information in simple, clear readouts.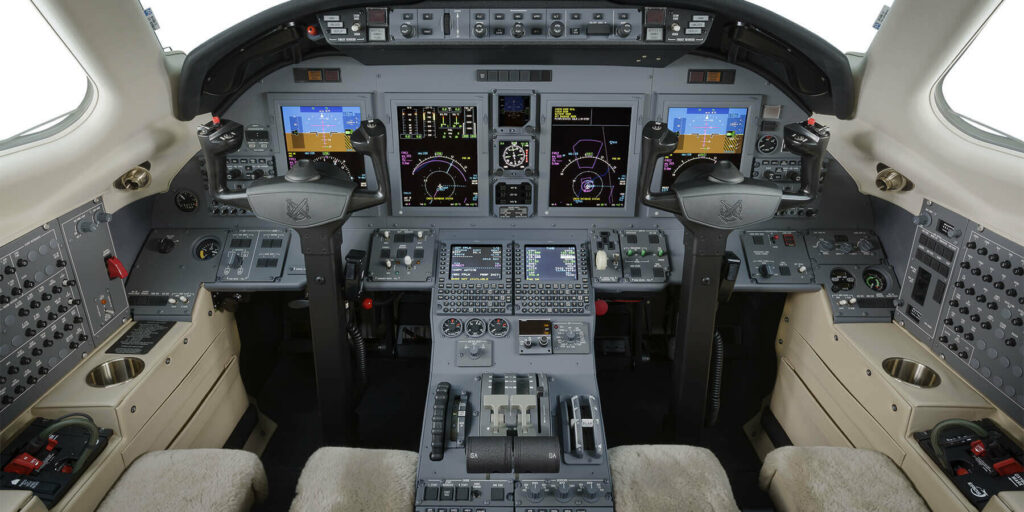 Proline 21 is Performance
Your Citation XLS+ jet will give you instant, accurate, and up-to-date weather information for your flight path via the XM WX SATELLITE WEATHER Data Service. This long-range, comprehensive weather detection system provides sharp situational awareness for both pilots and copilots.
With upgraded software, pilots can view satellite imagery with NEXRAD overlays, see Temporary Flight Restrictions (TFR) both in graphical and textual formats, view winds aloft, and view cloud-to-cloud lightning with strikes data refreshed every five minutes. Images and data are available at any altitude and are processed through a receiver supplied on a Head-Up Display (HUD) technologies which are then stored in the file server unit (FSU) for immediate access.
Features
Dual 8 x 10-inch Primary Flight Displays

Dual 8 x 10-inch Multifunction Displays

Electronic Flight Information System

Crew Alerting System

Flight Guidance System

Dual Air Data Computers

XM Broadcast Weather (U.S.)

Emergency Descent Mode

Dual Attitude Heading Reference System

Integrated Electronic Checklists

Electronic Charts

Flight Management System

Global Positioning System

Terrain Awareness Warning System (TAWS)

Traffic Collision Avoidance System (TCAS II)

Maintenance Diagnostic System