Most lavish midsize business jet
Proven citation aircraft systems, intelligent innovation, class-leading performance, spacious cabin, and standard equipment that steps above midsize expectations. You can get all of this at a price that no other jet of this sort can match. The Cessna citation latitude jet offers a wide, flat-floor cabin at a midsize price. Boosted with a range to take you 3,500 nm. You can fly nonstop making your timelines productive and distances shorter. Citation Longitude is the best-selling midsize business jet for the last three years. The citation longitude jet pushes the comfort level while keeping you connected. The class-leading baggage compartment is spacious enough to accommodate your luggage with a cabin designed for low altitudes to keep you fresh.
With a push of a button, operate an electronic 31-inch entry door. With such an automated process it demands entering into the aircraft.
Advanced airframe design incorporates lightweight composite materials for the nose radome and fairings. Helping you reach your destination.
Plenty of legroom for long trips with your whole team. Feel free to wander around conveniently without worrying about lack of space.
Stay connected through continuous wi-fi, control everything within your seat and enjoy the comfort and control at every step of the way.
The Heart of a Revolutionary System
The Citation Latitude aircraft flight deck, centered around Garmin G5000 avionics, is designed to provide pilots with the comfort and information they need for a reliable and efficient flight.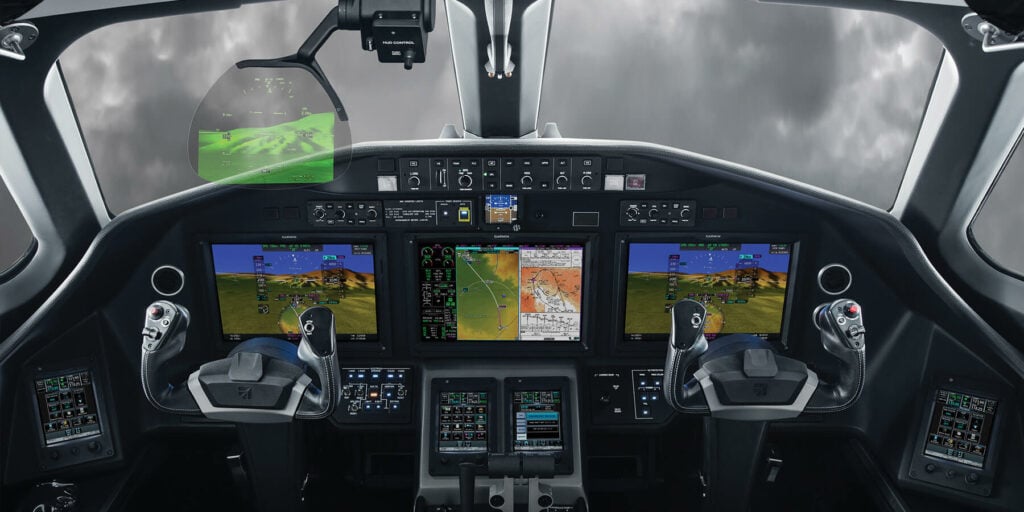 Visually Intuitive Flight
The three 14-inch landscape flight displays can function independently as a primary flight display or multifunction display. The displays also function in multi-pane mode, the center pedestal for MFD control and two additional panels control each PFD. Pilots can customize displays via the touch screen control panels, organizing and prioritizing the flight data presented.
Features
Fully integrated autothrottles

Garmin SVT

Touch-screen control panels

Flight Management systems (FMS)

Transponders with ADS-B Out capability