Combining proficiency and Comfort
The CESSNA CITATION CJ3+ jet delivers superior, unparalleled reliability without sacrificing productivity and comfort. It's the perfect combination of range, speed, and operating economics supplying you with the best ability in high and hot airports while enjoying longer maintenance intervals.
With the CJ3+ jet, standard features go above and beyond the rest with seating for up to nine passengers and 1,000 pounds of baggage capacity. A belted lavatory and TCAS II come in every aircraft along with options for phone and internet capabilities in the cabin.
The wing design innovates conventional wing design with a precise, computer-sculpted airfoil that maintains an uninterrupted flow of air across a greater portion of its surface, producing more lift with less drag.
The CJ3+ provides adjustable seating for six passengers in a center club arrangement around two executive foldout tables providing class and comfort to your journey
In-Cabin technology to stay Connected
Stay seamlessly connected to the world below with wireless intelligent cabin technology designed especially for the citation line making sure you stay connected to your world.
Plenty of room for work and relaxation. A quiet cabin creating a peaceful environment improving user experience and productivity.
Improved speed and clarity describe the new GARMIN G3000 avionics suite in the CESSNA CITATION CJ3+ jet. Brand new hardware and software mean significant speed and resolution enhancements. Not only is the display resolution greatly improved for operators, but the system boots up, processes, and loads databases faster than ever before.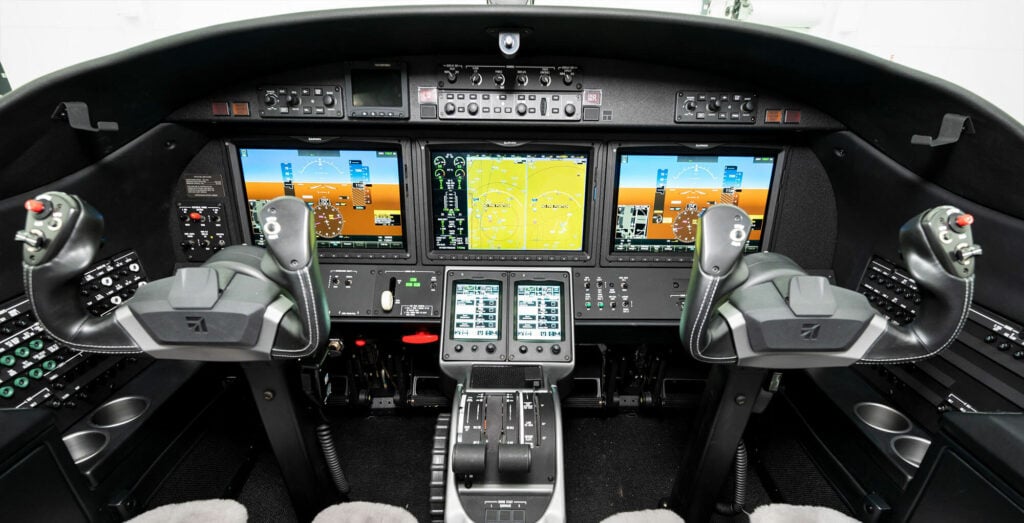 Reliability and Awareness
The CJ3+ is equipped with a fully digital, dual-channel autopilot (AP) system equipped with many features for added redundancy and reliability. Integrating data from the avionics system, the AP is built to inspire confidence while ensuring smoothness and comfort. The system is powered by the Garmin® GFC™ 700, a control system that has a flight director, autopilot, yaw damper, and features that provide top-level performance. The GFC 700 allows for outstanding flight automation and precision. The AP maximizes aircraft performance with precise lateral and vertical navigation guidance for all phases of flight. It can maintain altitude, airspeed, vertical speed, and heading, in addition to flying VNAV descent profiles, automated Takeoff/Go-Around procedures, and more. The CJ3+ has an AP system that is simple and straightforward to operate yet sophisticated and state-of-the-art, which makes flying the CJ3+ easier, safer, more consistent, and more enjoyable.