Redefining Travel with Superior Technology
If you're ready for your next achievement, meet our next-generation jet. Expertly designed, exquisitely crafted, the reimagined CESSNA CITATION CJ4 Gen2 jet elevates your travel experience from the moment you step onboard. The amenities you'll discover range from eye-catching to productivity-enhancing with cool view skylights, upgraded seating, and a wireless cabin management system giving you instant control of lighting, window shades, and cabin temperature.
The CJ4 Gen2 jet also delivers the proven performance of its predecessor. The COLLINS AEROSPACE PROLINE 21 avionics suite allows one pilot to effectively operate the aircraft. Features such as single-point refueling, an externally serviceable lavatory, and excellent range deliver what crew and cabin passengers have come to expect from a Citation jet.
Smart design means a better ride. The main landing gear of the CJ4 Gen2 jet is located inboard, reducing the track and making all aspects of ground handling smoother. The same long-stroke, trailing-link landing gear common to all Citation jets allows the softest landings and smooth taxiing.
This aircraft features a Fresh Air System to keep cabin air clean. This system operates by bringing fresh air from outside into the aircraft through the engines. The engines compress and heat the air killing pathogens and germs. The air is then cooled and enters the cabin as cold or warm air before exiting aft.
The Citation CJ4 Gen2 avionics suite combines category-leading technology with ergonomic enhancements and extreme user-friendliness.
INTELLIGENT, CONVENIENT CONTROLS
The pilot-friendly flight deck features category-leading technology and ergonomic enhancements centered around the COLLINS AEROSPACE PROLINE 21 avionics suite.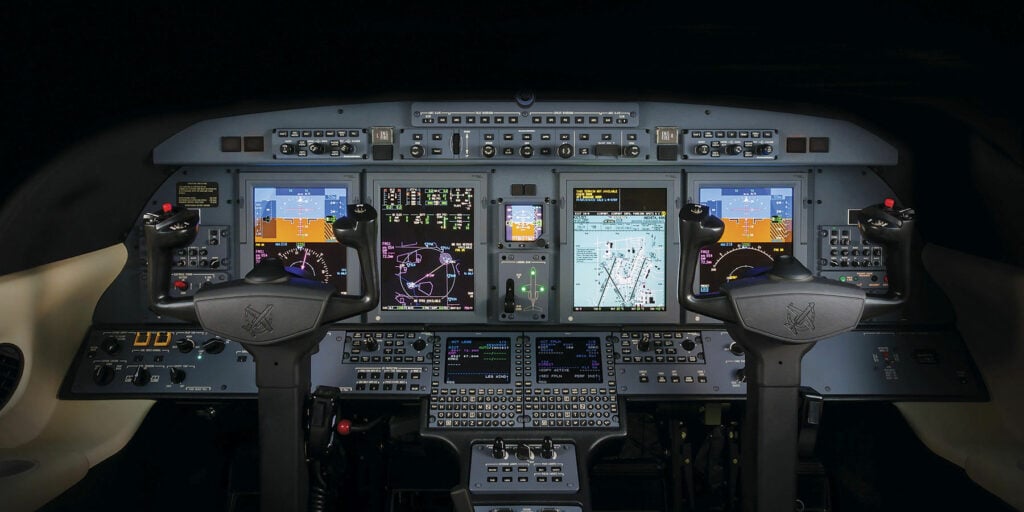 Standard Citation CJ4 Gen2 jet includes enhanced weather tracking via the Collins Aerospace RTA-4112 MULTISCAN Weather Radar system.  Pilots can use this solid-state radar system to detect weather systems and navigate around them to minimize turbulence.  Short, mid, and long-range weather detection is included with multiple radar scans at preselected tilt angles.  At any altitude or range, the system displays an optimized weather picture for the pilot.
Standard features
Dual Primary Flight Displays

Dual Multifunction Displays

Single Flight Management System with GPS Navigation

Integrated Crew Alerting System

Integrated Electronic Checklists

Dual Attitude Heading Reference Systems

XM Broadcast Graphical Weather

MultiScan Weather Radar

Mark VIII Enhanced Ground Proximity Warning System

TCAS II

OPTIONAL AVIONICS INCLUDE

Dual Flight Management System

High-Frequency Radio with SELCAL

Flight Data Recorder

ACARS Data Link