Bringing Endless Possibilities to You
Get into the pilot's seat of the 230-horsepower Cessna Skylane aircraft and get ready to experience even greater destinations. With its high-wing design and durable airframe, this celebrated piston aircraft delivers a level of performance perfect for the next level of pilot. Get in. Go fly. And enjoy every minute of your adventure.
Luxurious designs, comfortable seating, and elegant finishing help the Cessna Skylane stand out amongst its competitors. Offering a four-seat configuration with a wide cabin to create a better flying experience.
Reflection of ingenious Engineering
Featuring a resilient airframe and a durable tricycle landing system, making it ideal for short runway takeoffs and landings. A high wing design offering better visibility and stability for both the crew and the passengers.
Standard LED lights alongside an optional skylight, offering enough light for every lesson. Stow your luggage with an easily accessible cargo area with 200lbs of baggage allowance providing plenty of room for you.
Command the Next Generation
The Cessna Skylane is powered by the latest technology in integrated cockpit avionics, the Garmin G1000 NXi. With an improved graphical interface, more powerful hardware, higher resolution displays, added functionality to improve situational awareness, and optional wireless technology, managing the flight deck has never been easier.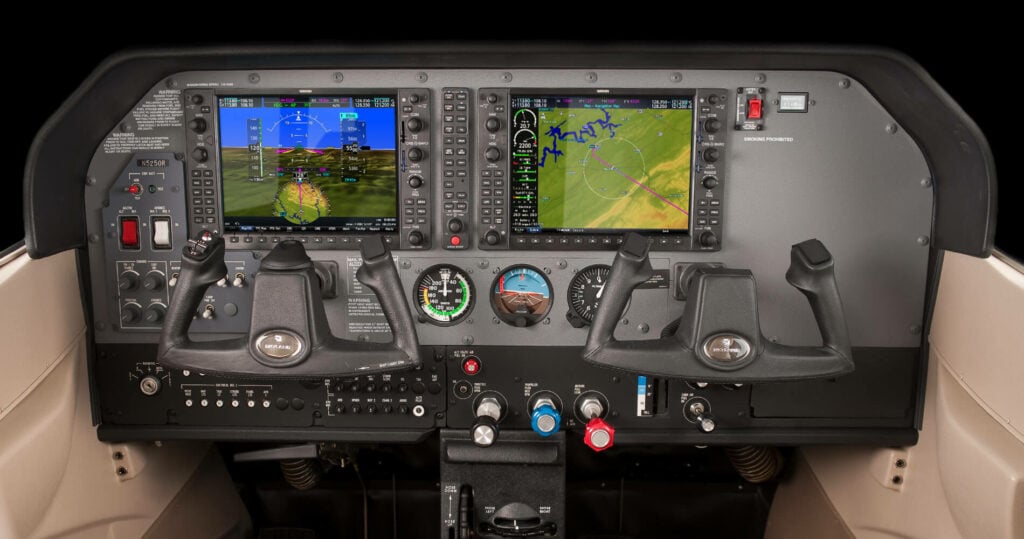 Standard ADS-B Out and In

Optional wireless database and flight plan loading

Standard Garmin Electronic Stability and Protection (ESP) and Under Speed Protection (USP)

Integrated VFR Sectional Charts

IFR High and Low Charts with Night Mode

Garmin Connext™ Satellite Iridium

Enhanced HSI features

COM frequency decoding

Vertical Situation Display

Selectable Visual Approaches

Optional Surface Watch for runway safety

Enhanced graphics and faster processing

Improved joystick with smoother panning

Simplified maintenance