Built to attain greater heights
Nothing is more liberating than learning to fly. The Cessna Skyhawk piston is the most popular single-engine aircraft ever built and has achieved a reputation for being the ultimate training aircraft.
With simplistic flight characteristics, great visibility, and a sophisticated glass cockpit outfitted with GARMIN G1000 avionics, the Cessna Skyhawk piston boasts a slow landing speed and a lenient stall. These characteristics make it a flight training favorite ideally suited for student pilots and it's perfectly designed to help you soar.
Luxurious designs, comfortable seating, and elegant finishing help the Cessna Skylane stand out amongst its competitors. Offering a four-seat configuration with a wide cabin to create a better flying experience.
Aviation's Ultimate Classroom
The Skyhawk is ideally designed for instructors, students, and observers alike. With seats wrapped in durable Luxor or optional leather, the Skyhawk offers a three-seat training configuration or a standard four-seat configuration.
Offering you the choice for a three or four-seat configuration. This way you can configure according to your requirements. With 12lbs of baggage allowance, you don't have to worry about space. The Cessna Skyhawk is the true definition of versatility.
Commanding the Aviation world
The Cessna Skyhawk is powered by the latest technology in integrated cockpit avionics, the Garmin G1000 NXi. With an improved graphical interface, more powerful hardware, higher resolution displays, added functionality to improve situational awareness, and optional wireless technology, managing the flight deck has never been easier.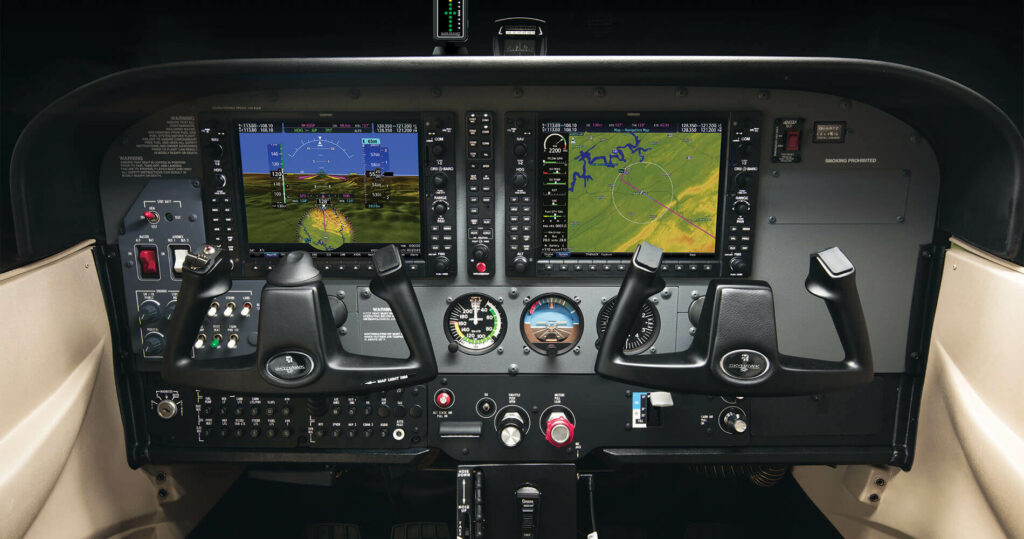 Standard features
ADS-B Out and In

Integrated VFR Sectional Charts

IFR High and Low Charts with Night Mode

Enhanced HSI features

COM frequency decoding

Vertical Situation Display

Selectable Visual Approaches

Wireless database and flight plan loading

Enhanced graphics and faster processing

Improved joystick with smoother panning

The angle of Attack Indicator

Simplified maintenance
Optional Features
Garmin GFC – 700 Autopilot featuring Electronic Stability and Protection (ESP) and Under Speed Protection (USP)

Garmin Connext™ Satellite Iridium

Surface Watch for runway safety